STAR ANISE infused RHUBARB & CASHEW CREAM
STAR ANISE infused RHUBARB • CASHEW CREAM • GR'EAT ENERGY • MINT
CASHEW CREAM
1. Soak 3 cups of cashew overnight (at least 2 hours) to activate them. Rinse.
2. In a bowl, mix 1 tbs psyllium seeds (plantbased gelling agent) with 1 cup water. Let it rest for 10 minutes.
3. Blend in a powerful blender the cashews • 3 medjool dates (optional) • the juice of 1 lemon • 2.5 dl water
4. In a bowl mix the psyllium into the cashew mixture.
Store in the fridge in an airtight jar. Enjoy with roasted rhubarb & granola. As breakfast or dessert!
STAR ANISE infused RHUBARB
Roast 500g rhubarb chopped in small pieces • the juice of 1 orange • 1 tbs fine cane (coconut) sugar • 2 staranise for 20 min at 180°C in the oven. During the baking, sprinkle the rhubarb with its cooking juice to maintain it moist. Once roasted, sprinkle with lemon juice to maintain vivid colours. Use this delicious roast as a basis for delicious #greatfast bowls: Greek yoghurt • roasted rhubarb • GR'EAT granola
RHUBARBE infusée à la BADIANE • CRÈME de CAJOU • GR'EAT ENERGY • MENTHE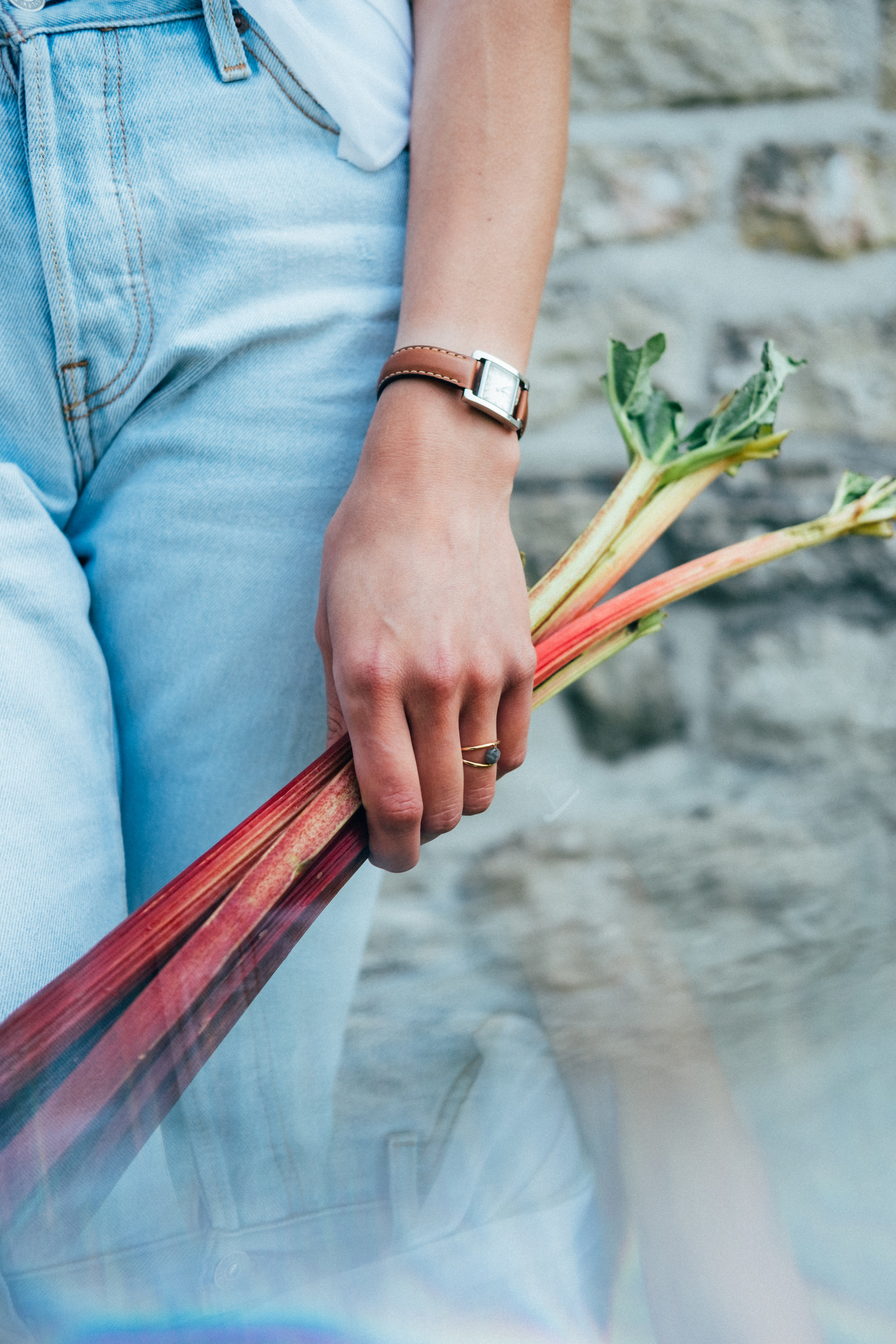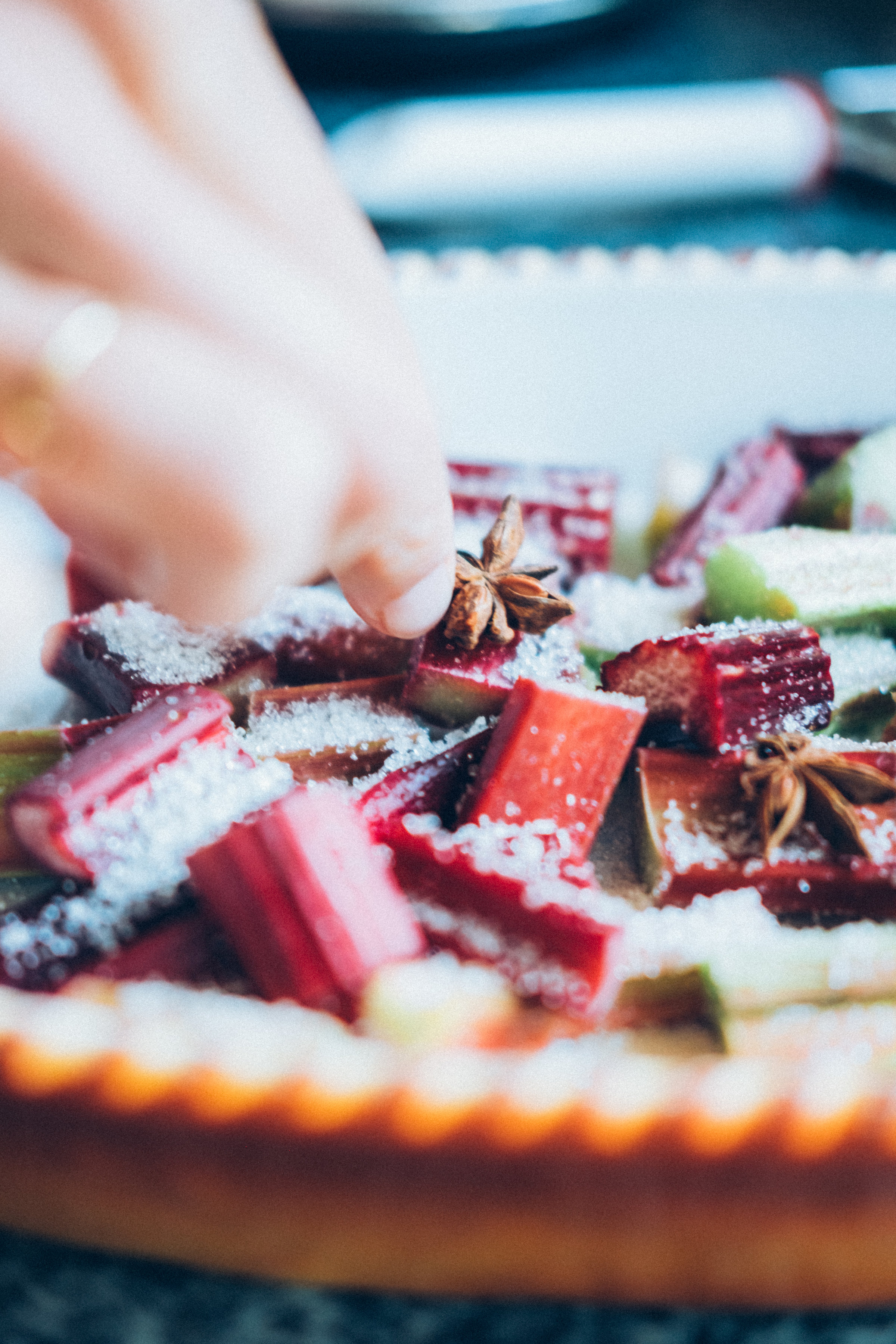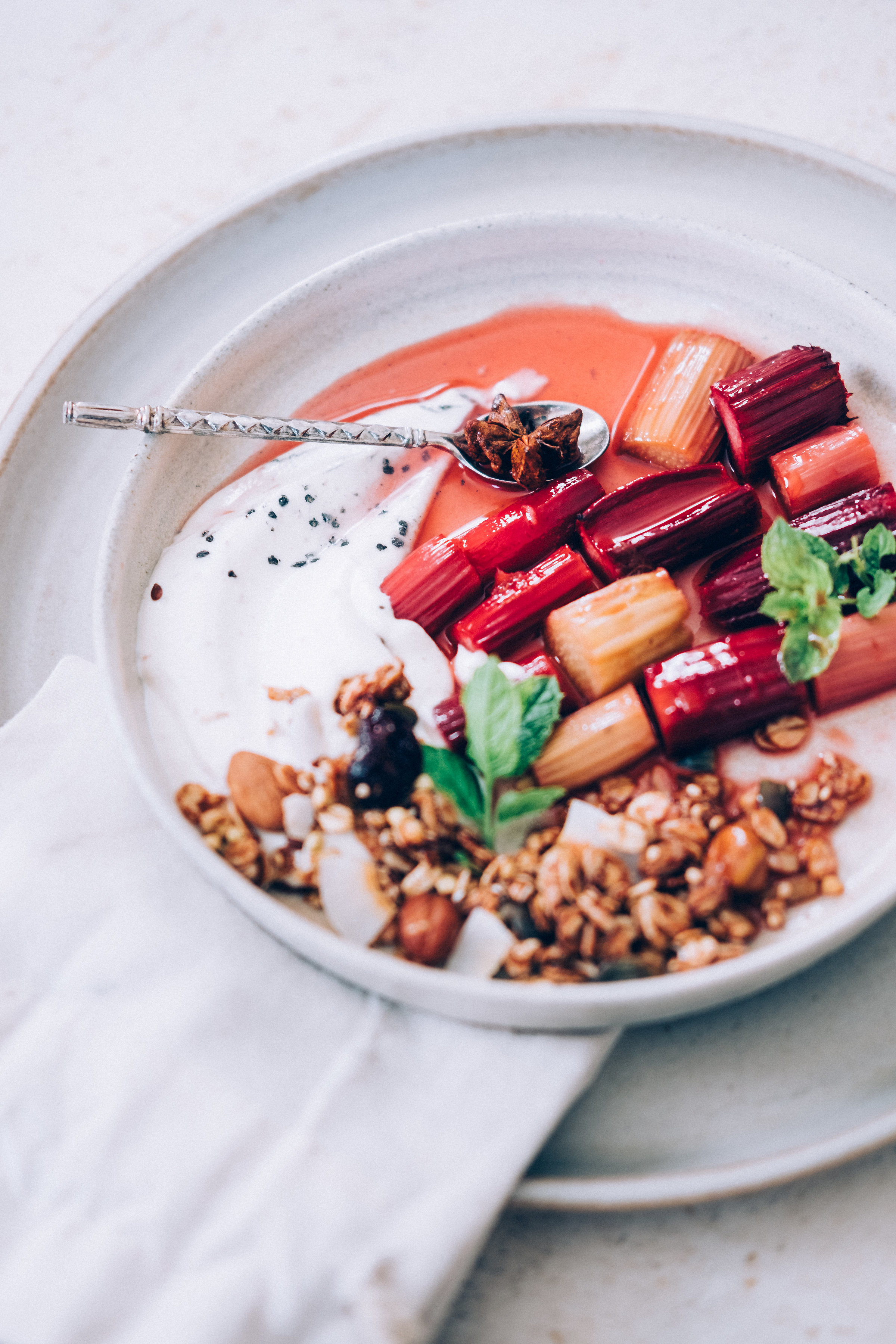 RHURBARBE infusée à la badiane (anis étoilé)
Grillez 500g de rhubarbe en morceaux de 2-3 cm • le jus d'une orange • 2 étoiles de badiane • 1 cs de sucre de canne (coco) pendant 20 min à 180°C. N'hésitez pas à reverser le jus sur la rhubarbe pendant la cuisson afin d'éviter qu'elles ne dessèchent. À la fin de la cuisson, versez du jus de citron afin de préserver les couleurs vives. Servez avec du yaourt à la grecque • GR'EAT granola.
CREME de CAJOU
1. Prétrempez 3 tasses de noix de cajou durant la nuit (ou au moins 2h) pour les activer. Rincez.
2. Dans un bol, mixez 1 cs de graines de psyllium avec une tasse d'eau. Laissez reposer pendant 10 min.
3. Mixez dans un blender puissant les cajous • 3 dattes Medjool (optionnel) • le jus d'1 citron • 2,5 dl d'eau
4. Dans un bol, incorporez le psyllium au mélange de noix de cajou.
Conservez dans le frigo dans un récipient hermétique. Dégustez avec de la rhubarbe & du granola, comme petit-dej' ou dessert!